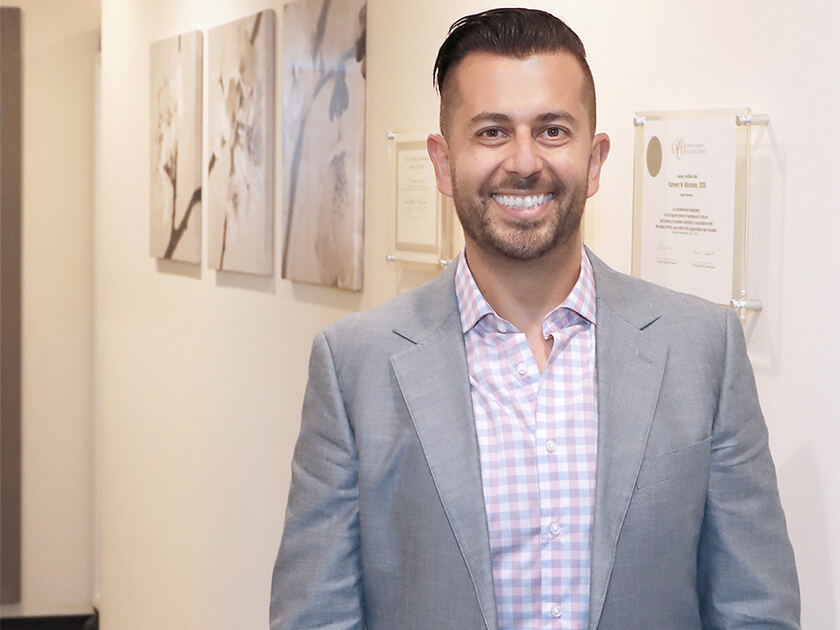 Dr. Kareem Abraham is a highly trained dentist with over a decade of professional experience in advanced dental techniques. He enjoys helping patients achieve beautiful and healthy smiles that have only been made possible through unprecedented advancements in modern dentistry. At his Santa Ana, CA practice, Dr. Abraham works to understand the specific needs of each of his patients to then provide accurate and personalized treatment options that yield exceptional results. Dr. Abraham is excited about what the future holds for oral and aesthetic care, and he wants to be at the forefront of progress by bringing ground-breaking treatments and technologies to patients at LifeTime Smiles of OC.
Dr. Abraham specializes in providing general, restorative, cosmetic, and periodontal dental treatments for his patients, as well as several sleep dentistry options. For his patients wanting to enhance the aesthetic appearance of their smiles, Dr. Abraham offers smile makeovers, dental bonding, veneers, teeth whitening, and Invisalign. As a part of restorative dentistry, he performs full-mouth reconstruction, tooth extractions, root canal therapy, and the placement of dental implants. Dr. Abraham and his team also offer procedures to help maintain and improve the oral health of their patients such as dental examinations, dental cleanings, and tooth-colored fillings. Additionally, Dr. Abraham provides treatment for periodontal disease and offers oral appliance therapy as a part of sleep dentistry.
After graduating from the University of Alexandria and the University of Minnesota School of Dentistry, Dr. Abraham pursued an advanced residency in restorative and aesthetic dentistry. He also completed specialty training in cosmetic and implant dentistry, Invisalign, Lumineers, and partial and full dentures. Dr. Abraham has since earned a fellowship and a mastership from the Academy of General Dentistry. His years of experience and commitment to continuing education are foundational to LifeTime Smiles of OC exceptional cosmetic and family dental care. Currently, Dr. Abraham has a research published through thUniversityty of Minnesota Dental School regarding an improved bonding strength for fillings.
Dr. Abraham has received several certifications from continuing education programs including:
Seattle Dental Study Club
Spear Dental Study Club
Newport Beach Dental Study Club
For his expertise and skill, Dr. Abraham has been invited to be a member of several prestigious dental organizations such as:
The American Dental Association
The California Dental Association
The Orange County Dental Society
The Minnesota Dental Association
The Academy of General Dentistry
The American Academy of Cosmetic Dentistry
Dr. Abraham, his wife, and their two children are active in their church and their community. Outside of his work, Dr. Abraham enjoys sailing and spending time at the beach with his son. He also stays active by running and biking.
Reviews
"Dr. Abraham and his staff are great!  Not only have they seen me, but our three kids (ages 8,8 & 9, yes twins) and our grandma.   We've all seen dentists that are highly recommended, from Corona Del Mar to San Jose as we use to live in Silicon Valley, but I can honestly say that Sr.Abraham and his staff (from dental hygienists, front office staff to the Doc himself) are the best I've seen.   They are obviously a for profit business, but they go out of their way to make sure you get more value than what you would ever expect.  Dr.Kareem is above all, concerned with the overall health of our entire family. He does things like screen his patients for different issues, as a precaution and doesn't charge extra, just to make sure he has a good overall picture of your health and that you're well informed. I think the biggest thing though is everyone in our family likes going to the dentist because it's always a good experience. The doc is wonderful with our kids and they really like him. They've never complained of anything and that's great! I just recently found out that Dr.Kareem was listed as OC's top 10 doctors in Orange Coast magazine and he didn't pay them a dime, it was a total surprise to him."
S.B.
Yelp
"I highly recommend Life Time Smiles of OC!!! I have been doing my Invisalign treatment and just completed my final scan and I am so pleased & feel so confident in my smile now. ALL of the staff is so amazing & very friendly!! They really do care about all their patients to make sure everyone is happy and satisfied when it comes to their dental needs!! They take the time to explain all procedures thoroughly and carefully!! Thank you so much to Dr. Abraham and ALL of the staff for making my dental visits fun, pain-free & smooth (:"
D.D.
Yelp
"Dr. Abraham and his staff are incredible! They are very kind and made me feel comfortable during my visit. I love that they were very communicative and explained what they were doing. Misty and Anna were gentle during xrays and my cleaning. I can't recommend them enough!"
A.C.
Yelp
"Dr Abraham is amazing! I'm terrified of the dentist and avoid it at all cost. But I finally realized I needed to just get it over with. He was very informative on what steps were going to take place. A dear friend referred me and honestly it was the best experience ever. I'm looking forward to fixing my issues and continuing regular care with Dr Abraham and his team. Thanks to the lovely ladies who made my experience not so frightening."
C.P.
Yelp
"I would highly recommend Lifetime Smiles, they have a great staff and Dr. Abraham is always very thorough and patient with his examinations. Today, I had my cleaning with dental hygienist, Misty, and she was thorough and patient with my dental cleaning and x-rays. Overall, I had a great experience with my visit at Lifetime Smiles today and have had great experiences with them in the past. It was also good to get a good examination by Dr. Abraham because my teeth looked good with no problems. I look forward to my next visit with Lifetime Smiles in the future!"
M.G.
Yelp
Related Posts