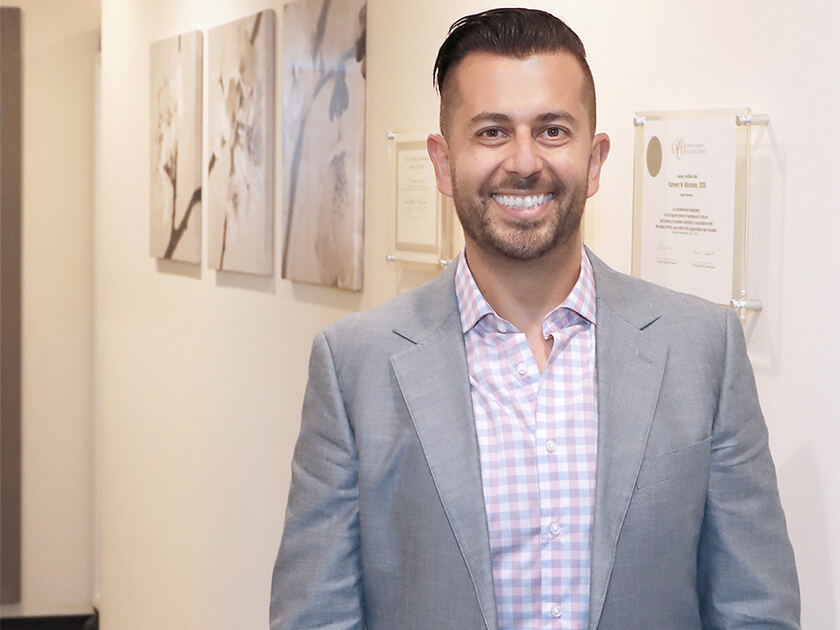 Dr. Kareem Abraham is a highly trained dentist with over a decade of professional experience in advanced dental techniques. He enjoys helping patients achieve beautiful and healthy smiles that have only been made possible through unprecedented advancements in modern dentistry. At his Santa Ana, CA practice, Dr. Abraham works to understand the specific needs of each of his patients to then provide accurate and personalized treatment options that yield exceptional results. Dr. Abraham is excited about what the future holds for oral and aesthetic care, and he wants to be at the forefront of progress by bringing ground-breaking treatments and technologies to patients at LifeTime Smiles of OC.
Dr. Abraham specializes in providing general, restorative, cosmetic, and periodontal dental treatments for his patients, as well as several sleep dentistry options. For his patients wanting to enhance the aesthetic appearance of their smiles, Dr. Abraham offers smile makeovers, dental bonding, veneers, teeth whitening, and Invisalign. As a part of restorative dentistry, he performs full-mouth reconstruction, tooth extractions, root canal therapy, and the placement of dental implants. Dr. Abraham and his team also offer procedures to help maintain and improve the oral health of their patients such as dental examinations, dental cleanings, and tooth-colored fillings. Additionally, Dr. Abraham provides treatment for periodontal disease and offers oral appliance therapy as a part of sleep dentistry.
After graduating from the University of Alexandria and the University of Minnesota School of Dentistry, Dr. Abraham pursued an advanced residency in restorative and aesthetic dentistry. He also completed specialty training in cosmetic and implant dentistry, Invisalign, Lumineers, and partial and full dentures. Dr. Abraham has since earned a fellowship and a mastership from the Academy of General Dentistry. His years of experience and commitment to continuing education are foundational to LifeTime Smiles of OC exceptional cosmetic and family dental care. Currently, Dr. Abraham has a research published through thUniversityty of Minnesota Dental School regarding an improved bonding strength for fillings.
Dr. Abraham has received several certifications from continuing education programs including:
Seattle Dental Study Club
Spear Dental Study Club
Newport Beach Dental Study Club
For his expertise and skill, Dr. Abraham has been invited to be a member of several prestigious dental organizations such as:
The American Dental Association
The California Dental Association
The Orange County Dental Society
The Minnesota Dental Association
The Academy of General Dentistry
The American Academy of Cosmetic Dentistry
Dr. Abraham, his wife, and their two children are active in their church and their community. Outside of his work, Dr. Abraham enjoys sailing and spending time at the beach with his son. He also stays active by running and biking.
Reviews
"I haven't been to the dentist in years and I was really nervous to go see one. First of all Ana and Raquel made scheduling the appointment super easy. When I went for my initial visit I met the dental hygienist, John. He is super nice, super patient, and very funny. He was very gentle when cleaning my teeth and even let me have breaks in between. Once he was done I met Dr. Abraham. Dr Abraham is amazing. He made me feel like his number one priority. He was very informative, super patient, and very nice. We set up a game plan for a root canal later in the week. When the day came I was so nervous I had taken off almost all the nail polish off of my fingers. But Dr. Abraham and Alex explained to me what was going to happen and again reminded me that I could take as many breaks in between the procedure as I wanted to. After the Dr cleaned out my old filling to see if I indeed needed a root canal he delivered the good news. After taking a closer look at my tooth and cleaning it he no longer saw it necessary to do a root canal. Overall my experience with them has been positive and I would recommend them to everyone. Especially if you are like me and super nervous about going to the dentist."
S.B.
Yelp
"I started going to Dr. Smetko when I moved to Tustin about 6 or 7 years ago. I keep going back. He is a great dentist. He always explained procedures and really keeps up on current technology. Never had a problem nor did I ever feel like I was getting swindled. I continued to pay out of pocket when I didn't have dental insurance! That's how good he is! Last year Dr. Smetko partnered with another dentist to start transitioning into retirement. I was worried. I love Dr. Smetko and I wondered how it was going be. Dr. Abraham is great! He has the same fascination that Dr. Smetko has. You can tell he really loves being a dentist. I have seen him twice now and am so happy Dr. Abraham is taking over.  Johnathan was the dental hygienist I had at my last 2 cleanings. He is chatty and fun. Pretty much painless.  I also like the office staff. Ana at the front desk is very friendly and knowledgeable. I have gotten a few silver filling replaced, 1 or 2 new fillings, and 1 crown. I was never in pain for any of them. Maybe a little discomfort but that's to be expected.  I highly recommend Dr. Smetko and Dr. Abraham for dental work and cleanings."
J.P.
Yelp
"As I was looking for a same day appointment because I was having so much pain on my wisdom tooth.. I've call serval dentists that didn't take same day appointment :(  .. when a co-worker suggested me her dentist not knowing if they do same day appointment.. I gave it try and told them the pain I was going through and ask if they would treat it ..when Raquel told me yes !!! She book me in.. when I got there I met the most amazing super I mean super friendly receptionist Raquel and Ana María!! They made me feel so welcomed made sure I felt comfortable.. after my treatment doctor Abraham would call just to make sure everything was ok .. I like it so much I started to take kids ages (5 and 3) which now we made LifeTime Smiles of OC our family dentist..."
D.C.
Yelp
"I have nothing but great things to say about Life Time Smiles of OC. I've been going to them for at least 8 years now.  Dr. Smetco and Dr. Abraham are great. They are very thorough and want to make sure you are happy.  The entire staff is great. Anna, the office manager is so kind and helpful and John does an amazing teeth cleaning. What can I say, I love my dentist!!"
L.J.
Yelp
"Excellent experience, very clean office & caring staff.  Dr Kareem is very goes the extra mile to follow up a day after you visit him & during the visit really helps you actually understand whats going on with your teeth. I have a small issue with my bite & teeth lately started moving, went to Dr Kareem to get a consultation regarding Invisalign- I'm now on tray #4 and very happy with the progress as well as the whitening process which is being undertaken along with the trays."
T.S.
Yelp
Related Posts